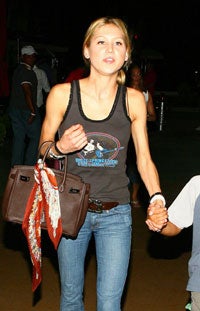 No. 1 most common email we've received today: "Have you seen what's happened to Anna Kournikova?"
We'll confess, we've never paid much attention to Anna Kournikova. Obviously, she's an attractive woman — as evidenced by her ability to give Frank Deford an erection, a feat that would seem to defy the laws of physics — but we think she's been close to surprassed by some current tennis players who, you know, actually have won a tournament or two. Besides, she breaks the rule of attractive celebrities for us, the law that says a woman decreases in perceived attractiveness once she begins dating a complete tool. When Enrique Iglesias entered the picture, we checked out.
Anyway, apparently she's scrawny now, which is what happens when one no longer needs to lift weights and, instead, can spend one's nights spending too much time in the women's restroom of loud places with neon.
Sorry: Writing about Anna Kournikova makes us tired. And we're just waiting for the trade deadline to pass already.
The Incredibly Shrinking Frame Of One-Time Goddess Anna Kournikova
Advantage Kournikova [SI.com]