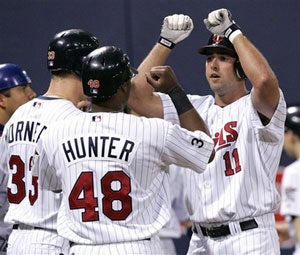 Notes from a day in baseball:
• 1. When In Doubt, Punto. Torii Hunter returned from the DL and had a home run and four RBI to lead the Twins over the Rangers, oh, let's say 15-2. And don't forget that Nick Punto had four hits, four runs and three RBI for Minnesota.
• 2. All Hail Big Papi. OK, perhaps he's not the deepest thinker in Boston. David Ortiz' quote after his game-winning home run for the Red Sox on Monday: "You've got to do what you've got to do. Like I said before, the worst thing that can happen is the pitcher getting you out." But Ortiz is not one of our great orators, he is one of our great hitters. His three-run homer in the ninth gave the Scarlet Stockings a 9-8 win over the Indians, keeping Boston in first place in the AL East, one game ahead of the idle Yankees. It was the second walk-off hit in three days for Ortiz, and fifth of the season. It was also his 12th in four seasons, tops in the bigs during that span. His 37 home runs and 105 RBI lead the majors.
• 3. Phillies Are Loco In The Cabrera. We mentioned yesterday that Chase Utley extended his hitting streak to 32 games, but did we also mention that his Phillies lost 15-2 to the Marlins? Miguel Cabrera drove in three runs with a homer and two doubles for the game fish.
• 4. Danny Glover Death Watch? Hey, nice little division chase out here in the AL West, as the first-place Athletics took a 1 1/2 game lead over the Angels with a 3-1 win on Monday. Dan Haren threw a complete game for the Oaklanders. Losing pitcher for the Angels was Tony Danza.
• 5. So Soriano, SF. Alfonso Soriano celebrated not being traded by clubbing the Giants into a fine powder, the Nationals winning 10-7 behind his double, two singles, two RBI, two runs scored and 27th stolen base.