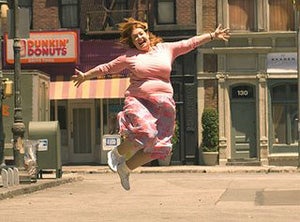 If you're looking to score a sweet New York Giants season ticket, take a look at this from Craig's List, and act fast. Only one catch: You must wear a sumo wrestler-style fat suit for each game. It seems that the "Fat Suit Fans" are down one member and are looking for a replacement. Other caveats include not talking for the duration of the first three quarters, a strict-no-drinking policy, and of course the challenge of going to the men's room. From the listing:
We paint our fat suits with blue and red letters, spelling the word "G I A N T S." Our friend, Jack O'Shea, had "G I" painted on his fat suit. Without him, when we stand together, it says "A N T S." Therefore, it is important to fill this position immediately, or people might think we are fans of the insect.
Of course there's always the possibility that the entire thing is a fraud, which would be a cruel trick to play on someone, because wearing a fat suit to a New York Giants' game is something you just don't joke about.
Free Giants Season Ticket! Become A Fat-Suit Fan [CraigsList]