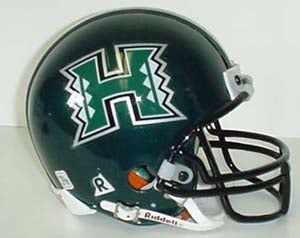 We must confess that we can't wait each year for the crunch of shoulder pads; for cleats churning up chunks of turf and red-faced coaches screaming from the sidelines. But enough about lacrosse. College football season is upon us, and to celebrate, we're going to get back into tiny tidbit mode and present four things you didn't know about each major conference. If you have a little-known fact about your team or conference, strap it to a freshman, point him in our direction and whack him on the ass. Or, mail to tips@deadspin.com. Today: The WAC.
1. The Mark Of The Z. Oh, Boise State. Where to begin? BSU not only participated in, but won the 2005 intercollegiate gay, lesbian and bi-sexual games (sadly, not affiliated with NCAA), and three returning football starters took part in those games ... Head coach Chris Peterson is an avid follower of Scientology and has invited Tom Cruise to serve as an honorary assistant coach during a game this season ... Heisman hopeful quarterback Jared Zabransky was born with a birthmark on his bicep in the shape of the letter "Z" which is uncanny, given his name. He also eats a gigantic loaf of bread before every game as a ritual ... The school allows Boise's homeless people to come and see home games for free and even supplies these people with festive orange Broncos apparel and hot soup. (Thanks to Nick "I'm With Leather" Wollen).
2. It's November; Time To Switch The Sign. Idaho uses the same building for both football and basketball; with a 16,000 seating capacity for football, the Kibbie Dome is the smallest venue in Division I-A. Then, the structure is renamed the Cowan Spectrum for basketball. But with Washington State's Martin Stadium only eight miles away, the Vandals often use that for football.
3. V Is Also For Victory. We've often wondered why Fresno State players have a V on their helmets. It's for "Valley," denoting the agriculture industry in the San Joaquin Valley. Or so we're told. Among alumni of note, who did not go into agriculture, are David Carr, Trent Dilfer, Jeff Weaver, Orlando Huff and of course, Jerry Tarkanian.
4. Head Over Heels For SJS. Despite having produced Dick Vermeil and Bill Walsh, San Jose State isn't very good in football. But the Spartans are the best judo school in the nation, having won 38 of 42 national championships. Plus, San Jose State students and alumni have won more than half of the U.S. olympic medals in judo.