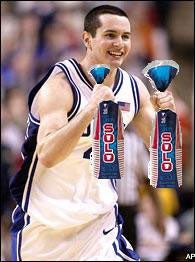 We are not, as of this writing, professional marketers. We are confused by what people use to sell their products. We skipped class a lot: Sorry.
But we will confess that we find it strange that the NCAA College Hoops 2K7 video game cover boy this year is none other than JJ Redick, everybody's favorite DWI-ing long-distance specialist. Putting a guy with an arrest so recently on his record seems unusual; that it's perhaps the least popular collegiate athlete — nationally, at least — in recent memory makes the decision almost masochistic.
To quote from a reader: "This game is very realistic. J. J. starts the game with a 97% shooting accuracy. If a collision is detected between himself and an opposing player, it drops to 67%. If the refs don't blow the whistle, it drops to 24%." To that we might add: When you use the special "Turbo Zima" function, his shooting percentage blows out to a wobbly .11.
JJ Redick Named College Hoops 2K7 Cover Athlete [Joystiq]
Court Appearance For Redick Delayed Until August 29 [SI.com]
JJ Redick ... DUI. Seriously [Deadspin]