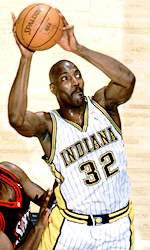 One of our favorite old stories — memorialized in a classic early Bill Simmons column — was the Atlanta Gold Club trial. Remember that? The one where all the athletes — Patrick Ewing, Andruw Jones and, uh, Stephen Baldwin — kept getting sexual favors from a strip club in Atlanta. (Yes, Rodman was involved. Obviously.) The whole thing was the type of enterprise that would have provided sex-boat-meets-lesbian-Panthers-cheerleaders excitement around here, had we been around then.
Anyway, the best part of the story was how Gold Club executive Thomas "Ziggy" Sicignano fingered Antonio Davis as one of the regular clients ... but he meant Dale Davis. Oops. We're guess someone might not have been pleased by that.
Point is, there should be no more Dale/Antonio misidentification: Dale Davis, now with the Pistons, was arrested Tuesday morning and charged with disorderly conduct, resisting arrest without violence, assault and assault of a law enforcement officer. To finish off the event, they tasered him. This should further distance the two Davises and alleviate any more confusion.
Davis Arrested In Miami Beach [Detroit News]
Inside The Gold Club Trial [ESPN Insider]