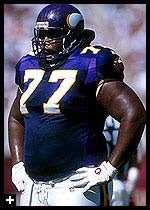 AJ Daulerio's Cultural Oddsmaker runs every Friday. Let him know what you think of him.
Finally, those of us on the East Coast are getting a break from the heat. The temperature will only hover a little under 90 degrees; the heat index in my pants is still at a stuffy 104. But even riding on the sweaty subways or a couple hours of swamp ass cannot compare to what football players in training camp must be going through.
Ever since Korey Stringer's tragic death in 2001, this time of the year has become synonymous with heat stroke and ill-timed Esquire articles. NFL teams are taking no chances, outfitting the sidelines with icy baths, salt tablets, intravenous fluids and, for more high profile players, personalized giant igloos with an Eskimo physical therapist named Nanook.
But not all these measures can guarantee player's safety. Today we'll place odds on who will have an ambulance ride to the hospital over the next couple weeks of two-a-days and being tied to the goal post. I'm putting on my Under Armour body gear, doing shots of pickle juice and bracing myself for the jolt of super ventricular tachycardia. Pass out with me, after this jump.
(UPDATE: Your cordial editor Will Leitch has heard your complaints about the attached photo and switched it out. We feel obliged to point out that the Stringer tragedy still happened, whether that photo is there or not. But we don't want any trouble.)
————————————————-
Jeremy Bloom, PR, Philadelphia Eagles: 4/1
This isn't the Real World/Road Rules challenge, pretty boy! His bum hamstrings already indicate that cramping is inevitable, and I'm quite sure he never spent any 120 degree days bouncing around moguls. Hey, as an Eagles fan, I only wish the best for Jeremy Bloom, but ever since my heart was broken by Gizmo Williams, I've promised myself never to get excited about a special teams player.
Shelley Smith, ESPN reporter: 3/1
She's the defacto field reporter and the "serious" female journalist on the staff at the show. But her standard heavy cotton pantsuits and fair complexion aren't going to help her not faint in the blazing California sun chasing around Pete Carroll at USC camp — Smith is going down. Why can't they send Len Pasquarelli to these things? Oh. Right. Because he's too fat.
LenDale White, RB, Tennessee Titans: 6/1
Too many donuts and too much thuggish attitude will be the downfall of LenDale (whose already suffered a toe injury in camp. Better hit the gym and do more toe curls). This is the next stage of Titans backfield drama this year when White will insist on hydrating himself with a Sonic milkshake instead of water.
Michael Strahan, DE, New York Giants: 8/1
Strahan's never had a problem with keeping himself in shape, and the leader of the Jints certainly won't come to training camp flabby. Or will he? In the midst of a messy divorce, Strahan most likely spent plenty of the off-season at strip clubs and going on frequent benders with ambiguously gay friends. Plus, his wife appears to be a vindictive woman, and I wouldn't be surprised if she spiked some of his Gatorade bottles with ipecac.
Sione Pouha, T, New York Jets: 5/1
New coach Eric Mangini is showing that regardless of what the heat index is on the field, he's not letting that stand in the way of three-and-a-half-hour practices. Bad news for second year tackle Pouha, who, at 325, doesn't have the height to carry all of that weight. It also doesn't' help that Mangini HATES Tongans. Expect Pouha to spend the majority of camp running dizzy bat races all by himself.