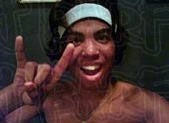 Yesterday, we told you about an incident in which the son of former Blue Jays slugger Jesse Barfield pushed his dad down the stairs. We haven't had any official followup to that story, except in the one place athletes actually speak anymore: Their MySpace page!
Jeremy Barfield, a ninth-round pick by the Mets, has his MySpace page and responding to the charges on a friends' "comment" page.
we're both doing fine right now. i already went to court this morning about it. my dad never even went to any hospital but that's the media for ya! It's just been blown way out of proportion. I'm not a violent dude and don't intend on being perceived as one. now i know why rappers feel a certain way about the police...i witnessed it first hand. learning experience though. i ain't touchin' nobody from here on out. they're just lookin' for me to screw up.
It is reassuring, by the way, to see that Barfield really does use the nickname "J-Barf."
J-Barf [MySpace]
Jesse Barfield's Sons Are Getting A Big Big For Their Britches [Deadspin]