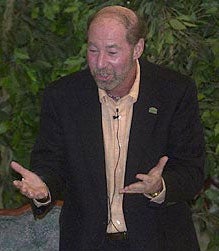 Lovable Grumpy Gus Tony Kornheiser broadcasted his second "Monday Night Football" game last night, and it has created decidedly less conversation — "buzz," if you will — than his debut did a week ago. We only watched a few minutes of the game, so we don't feel qualified enough to make much judgment. (In general, we like Kornheiser and are rooting for him. There. We said it.) Others did sit through the game and were less than impressed.
We're much bigger fans, however, of Gene Weingarten's satirical "review" in today's Washington Post:
During the opening moments of preseason play between the Cowboys and Saints, Kornheiser observed, matter-of-factly, that it was "five thousand degrees" on the field in Shreveport. Five thousand degrees? It could not have been more than 90. At 5,000 degrees, Tony, steel melts. The entire stadium and everyone in it would have been incinerated — including Kornheiser. The viewers, alas, had no such luck.
If this guy writes a review of Kornheiser every week, we're gonna really enjoy this.
Yo, Tony! I'm Talkin' About You! [Washington Post]
On Second Thought ... [Awful Announcing]
(UPDATE: As several people have pointed out, Weingarten's chat transcript is just as entertaining.)