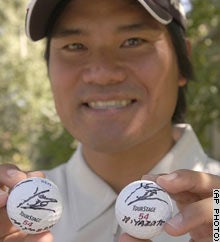 At yesterday's Reno-Tahoe Open, Yusaku Miyazato recorded two holes-in-one during the same round. It's never been done before, and normally, something like that would make me want to punch the guy in his face, just out of pure jealousy. But Miyazato, who barely speaks English, was asked how he'd celebrate, and he managed to get this out:
"Drink much beer. Big party."
Well, then, me and you are cool, Yusaku Miyazato.
Despite the pair of aces, Miyazato still trails leader Bob Estes by six strokes. And given his plans for last night, he'll probably come out and shoot a hungover 84 today. But still, he'll remain the reason for what I believe is the only post in Deadspin history about the second-biggest golf tournament that's happening on a given weekend.
Miyazato aces twice in round [Houston Chronicle]