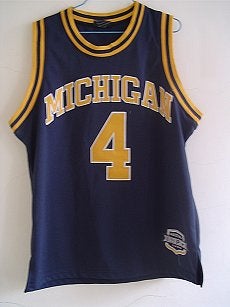 The Texas longhorns have set a new NCAA record for merchandise sales. A football national title, a baseball national title, a very good basketball team, and Vince Young can do that for you, I guess. The school made $8.2 million in royalties last year.
The previous record holder? Michigan, which took in $6.2 million in 1993-1994, when Chris Webber, Jalen Rose, Juwan Howard, and two other guys comprised the Fab Five. It's amazing that that record stood for so long. Given inflation, the recent fashion trend of wearing jerseys, and the general availability of sports merchandise, it's remarkable that the Michigan record stood as long as it did. Looking back, that may be the single most impressive thing about that Michigan team. That is a lasting cultural impact.
Texas snaps North Carolina's five-year stretch at the top of the rankings. Go here to find where your team ranks among the Top 75.
The Collegiate Licensing Company Names Top Selling Universities and Manufacturers [CLC.com]