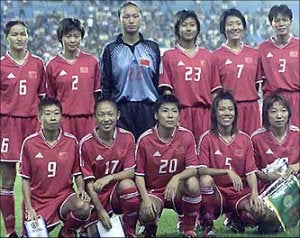 1:00, ESPN2. Women's Soccer. China vs. USA. Those are women? I'm going to need to see some... actually, no, I don't want to see any more.
1:00, TBS. MLB. Washington Nationals @ Atlanta Braves. Oscar Villareal is 9-1? How is anyone 9-1 on the Braves?
1:30, NBC. Champ Car Racing. Grand Prix of Montreal. There's really not much on today. Really.
2:30, CBS. PGA Golf. Bridgestone Invitational, Final Round. You know, field, you had Tiger on the ropes yesterday, and you refused to put your foot on his throat. You will likely live to regret it.
3:00, ESPN2. LPGA Golf. Wendy's Championship for Children. What is this? The winner gets a child? That seems borderline unethical.
3:00, FSC. Argentine Soccer. Boca Juniors vs. San Lorenzo. San Lorenzo defender Sebastian Ariel Mendez hasn't been playing up to form lately. I read that somewhere.
3:30, ABC. Little League World Series. Columbus (Ga) vs. Japan. If you don't watch, you aren't going to know what Skip Bayless is bitching about tomorrow morning.
3:30, ESPN. IndyCar Racing. Indy Grand Prix of Sonoma. I don't see anything grand about this prix.
5:00, ESPN2. Lacrosse. MLL Championship. Denver Outlaws vs. Boston Barrage. Just so you know.