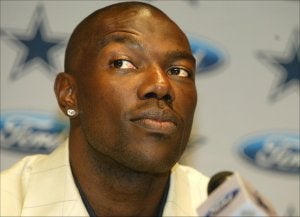 No one involved wants to comment on it, but the Dallas Cowboys have finally fined Terrell Owens $9,500 for missing a team meeting, missing a rehab session, being late to an offensive meeting, and, according to Bill Parcells "being such a dick."
Okay, he didn't really say that. But you know he wants to. And that might be the most amusing thing about the whole situation; seeing Bill Parcells' hands tied. He walks on eggshells because he doesn't want an Owens blow-up, and he can't speak out on it, because Owens is 100% a Jerry Jones product, and he doesn't want to create any friction with the owner. He's really a spectator in this whole thing.
But as you know, the fine is totally media-created, because those muckrackers are just digging for stories that aren't there. They blow things completely out of proportion! The hamstring injury, the cycling outfit, the refusal to practice, the missing team meetings, the fine... media fabrications, all of them. Move along. There's nothing to see here.
So, Dallas... How's That New Guy Working Out? [Fortress of Pillows]
T.O. going too far? WR reportedly fined $9,500 [ESPN.com]