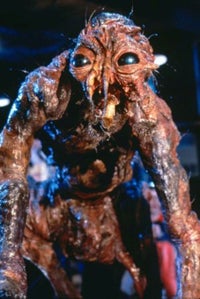 If you've ever been around a light source in the middle of an expanded Midwestern landscape of soybeans and chubby cows, you know you've got to be wary of Them Bugs. Them Bugs will attack you in intense droves, and they will do so without warning. A bug zapper will help, but just a little: There's not much artificial light in the Midwest, and what little there is, Them Bugs will find it.
Which is serious problem when your light source is 4,000-square foot LED television. The Nebraska Cornhuskers just installed the mammoth device at Memorial Stadium, and it is doing little more than attracting a ridiculous amount of moths.
While we wonder whether or not that Fred Smoot fumigator is busy or not, we nevertheless expect, if the Cornhuskers get off to another bad start, the moths and flies and Them Bugs to count toward positive attendance figures.
They're Working Out Bugs At Nebraska [The Wizard Of Odds]