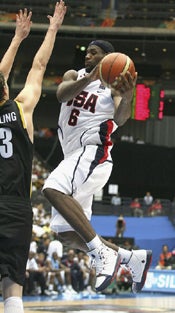 In a game we actually got up to watch for you this morning, the United States coasted into the semifinals of the World Basketball Championships by scooting past Germany 85-65 in Japan. We hope you actually were near an ESPN2 at the time, because, like all week, FIBA's Web site wasn't working, even slightly.
We'd say we're not particularly qualified to comment on the game, considering:
• We only knew one player on Germany (Dirk, of course, who really didn't play well).
• We were only watching it from our couch, and we're not really awake yet.
• We continue to be confounded by the weirdness of seeing Jim Boeheim and LeBron James sitting next to one another.
We don't feel so bad about it, though, since the ESPN announcers aren't really there either. (And you know what? We didn't really notice that much of a difference. We think there might something to this "Broadcasting from home" thing.)
The U.S. will play Greece, which beat a Tony Parker-less France even earlier today, Friday morning, starting at 6:30 a.m. ET. Spain and Argentina play in the other semifinal even earlier than that.
FIBA.com [Official Site]