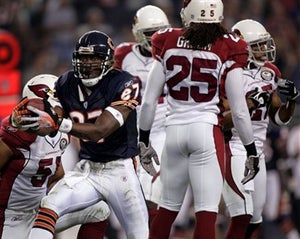 We are officially less than a month before the start of the NFL season, so it's probably time to start previewing the monster. The key to the NFL's success — other than fantasy football and gambling, of course — is the rabid nature of its fans. That is to say: You don't see a lot of people painting their faces for their favorite golfer.
We asked a gaggle of writers, from the Web, from print, from books, even a TV guy or two, to tell us, in as many or as little words as they need, why My Team Is Better Than Your Team. This is not meant to be factual, or dispassionate, or even logical: We just asked them to riff on why they love their team so much, or what their team means to them, or whatever. We will be running two a day until the beginning of the NFL season.
Right now: the Chicago Bears. Your author is Mike Cetera.
Mike Cetera is the opinions editor at the Aurora Beacon-News. His words are after the jump.
————————————————————————-
Blame me. Or rather, I should say, blame all of us who allow the Chicago Bears to use the past as a diversionary tactic to take our minds off the game. Remember Moses Moreno, Henry Burris and Jonathan Quinn? These were all recent Bears starting quarterbacks. It's hard to keep track of all the names; some 15 have shuffled in and out of the starting lineup in the last decade. No, we quickly forget these forgettable mistakes at the most important position on the field. We're too busy talking about THE GREATEST TEAM EVER, the Super Bowl XX champs, and the Bears have done little to discourage our conversation. This team thrives on the deke, like the running back that uses a head fake to scoot by and embarrass a weak defensive back.
The aging former athletes who brought us Super Bowl glory are still among the most popular personalities in town. They have their own talk shows, and they own restaurants with their names ablaze in lights. We idolize this team and romanticize the coach who famously told anyone who dared cross him where to stick it ("You see this," Mike Ditka once said to a reporter while curving his thumb and index finger into the shape of a zero. "That's your IQ, buddy." Clever.).
Gosh, they're great. Too bad that was two decades ago, and most who played for the Super Bowl Bears now qualify for AARP benefits. Too bad the fans never seem to realize this, either. We are all enablers for this addiction to the past.
But I'm getting ahead of myself.
My qualifications here are questionable. I have not written a novel (nor, just to be clear, have I slept with the Deadspin editor); I worship the stat, but cannot claim to comprehend the VORP rate; I have never fabricated the story of my life to make a buck or win the empathy of others; I am a Cubs fan.
It is this last characteristic that makes my worldview particularly susceptible to unreasonable fits of optimism. My name is Mike C., and my glass is half full. This is why, as each new season dawns, I'm sure the Cubs will win the World Series despite blinding evidence to the contrary. And so, too, it goes with the Bears. But, again, this isn't just my problem. This entire fan base is delusional.
Never mind that the Bears have been bad for so long (2005 doesn't count) that the kids born when the team last deserved to be in the playoffs are in college. Never mind that the team has a historical aversion to competent quarterbacks. Never mind that every year we're presented with a new version of the same offense, one that curiously relies on the defense to score points.
None of these things matter. It is a new season, a fresh start. Quarterback woes be damned. That tiny controversy about Cedric Benson's teammates perhaps intentionally injuring him because they like Thomas Jones and they don't like him? This means nothing. That the two have combined for three rushing yards in the preseason? No worries.
We should not concern ourselves with pesky details like who should be the starting running back ... or the starting quarterback for that matter. Oh, that time will come — probably in the second quarter of the first home game when the fans in the stands start a rallying cry for whichever QB is second string that day. We love the underdog, you see. It doesn't matter if the guy backing up the guy is actually any good. By will alone, the fans will make him a Pro Bowler. Kind of like what happened with Kyle Orton.
Oh, this franchise is smart. They tease us with a stifling defense, which only reminds us of what we had. But let me tell you, Chris Harris, you sir are no Gary Fencik. Watching this defense, I just know it's all a ruse. They really aren't that good. Carolina proved it. And someone else is bound to expose Peanut Tillman just like Steve Smith did.
There I am living in the past again. It is a new year, another opportunity for a return to greatness. So what am I, and the rest of this team's fans, supposed to make of the 2006 Chicago Bears? They are going to shuffle all the way to the Super Bowl. And win, of course.