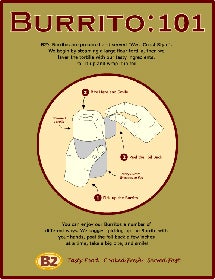 We are in a difficult position here, trying to summarize why burritos became such a large part of the Deadspin psyche. You see, we really had absolutely nothing to do with it.
It all started with a post telling everyone to buy NCAA Football 07 roster cards and read EDSBS, our final post of the day. PostmanE started the madness with: "My roommate always gets these, but never by shipping his memory card. I think he's actually found a site online that does it automatically. I don't know, I 'd have to talk to him and report back. Disclaimer: He's not as big a nerd as it sounds. Unless you consider getting stoned, watching Discovery HD and eating Chipotle all day nerdy. In which case..."
And then you were off. We actually were away from the computer that evening and came home that night to discover our innocuous, kinda dopey post on college football and exploded into a dissertation on all matters burrito. "Baby legs," the nutritiousness of Chipotle and the East Coast/West Coast burrito feud. It was a surprising, and incredibly entertaining, discovery. Mostly, it was one of the first times it became obvious that whatever we wrote up here was, in large part, somewhat irrelevant: All the entertaining and amusing discussions happens down below.
But is it a Hall of Famer? Remember, 75 percent is the threshold. Vote below: Polls will be open until next Tuesday.
Gawker Media polls require Javascript; if you're viewing this in an RSS reader, click through to view in your Javascript-enabled web browser.