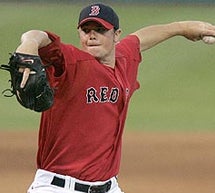 I hate to throw a bucket of cold water on everyone right before the big college football orgy, but I feel like I should probably mention that Red Sox pitcher Jon Lester was diagnosed with cancer yesterday.
There are tons of different types of lymphoma, though, and the good news is that Lester's is treatable. He's also young, in good shape, and has all the medical resources in the world available to him, so that's gotta help his chances. And if he needs additional inspiration and motivation, he can always ask Curt Schilling to remind him again about how heroic he was when his ankle was bleeding.
Obviously, we're all hoping that he beats the hell out of this thing, quickly and completely. Best of luck, Jon Lester, and Jon Lester's doctors.
Sox' Lester has cancer [The Bristol Press]