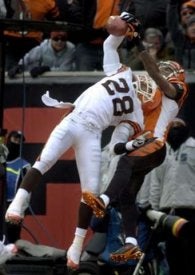 Oakland @ Baltimore. This game should answer some questions on exactly how bad Oakland could be. I really believe that they've got the potential to be one of the all-time legendary disasters in sports history. A key to this, though, is keeping Aaron Brooks healthy. They can't reach the depths they're capable of if, say, I dunno... Ray Lewis literally murders him today. I think there's a less-than-50% chance that Oakland scores a point today.
Chad Johnson vs. Leigh Bodden. There are a couple of reasons why this is interesting. First, Kellen Winslow believes that Leigh Bodden can shut Chad Johnson down, and there's historical evidence to support that. I'd love to chalk this up to the fact that Kellen Winslow is an idiot, but I'm a believer in Leigh Bodden. Not that I think he'll shut Chad Johnson down, but... I think it's a matchup worth checking out. And the second reason is that Chad Johnson might be running out of touchdown dances, and you'll want to be around to witness the sadness of a plain old Chad Johnson spike of the football.
Kansas City @ Denver. Damon Huard's starting for Kansas City, and I'm not sure who the quarterback edge goes to in this matchup. It depends on what Jake Plummer had to drink for breakfast. If he went with orange juice, I like Denver's chances. If he went with Jim Beam, as I believe he did last week, I like Kansas City.
New York Giants @ Philadelphia Eagles. I generally don't like the chances of any team that's playing a must-win game in Week 2. It's a divisional matchup, and if the Giants don't win, they'll already be two games behind the division leader. Donovan McNabb hasn't lost to the Giants since 2000, by the way.