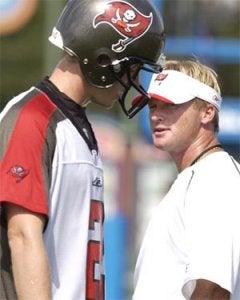 Detroit 7, Chicago 34. And welcome back to the Detroit Lions. All that Week One optimism looks a little misguided at this point. Not that they're destined to be as bad as the Raiders or anything, but they're still 0-2 and just got their asses beat by Rex Grossman (20-of-27 for 289 yards and 4 TDs).
Cleveland 10, Cincinatti 34. I think you'd have to award the decision in the Chad Johnson/Leigh Bodden matchup to #85. He finished with 6 catches for 78 yards and a touchdown. Chris Henry, his speed not affected by his ankle bracelet, led all receivers with 5 catches for 113 yards.
Bucs 3, Falcons 14. It might be time for Jon Gruden to rethink the Chris Simms experiment. His line today: 24-of-44 for 268 yards, 0 touchdowns and 3 interceptions. And if it's possible, he actually looked much worse than his stats would indicate. Phil Simms, perhaps even Molly, might be better options at quarterback right now.
Saints/Packersl (sorta) up in the air, the Giants/Eagles is still up in the air, and Panthers/Vikings looks like it could be headed to overtime.