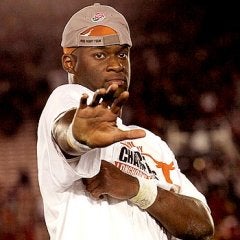 Denver 9, Kansas City 6. This wasn't football, this was a crime against football. I shouldn't even mention it here. Three hours of straight boredom. And since I don't want to talk about it, let me just mention this: I have three QBs on my fantasy roster: Chad Pennington, Rex Grossman, and Jake Plummer. I started Plummer.
Cardinals 10, Seahawks 21. This game was really almost as bad, but in a different way. The Seahawks jumped out to a quick 14-0 lead, and the outcome was never in doubt after that. Edgerrin James continues to not excel in his new home, carrying 18 times for 64 yards.
Titans 7, Chargers 40. The lines on the Tennessee QBs: Kerry Collins, 6-of-19 for 57 yards and 2 INTs. Vince Young, 4-of-14 for 73 yards... and ONE TOUCHDOWN! That may be the highlight of the Titans season. Congratulations on your first career touchdown, Vince. Sorry it came in the midst of a savage beating. That's something you might want to get used to, though.