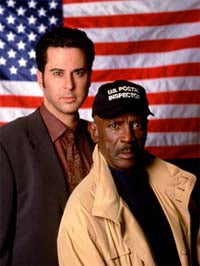 So, remember, back in May, when Siena basketball player Kojo Mensah was so desperate to be allowed to transfer from the school that he called on Louis Gossett Jr. for help? Gossett memorably said he could be of assistance because he "can call directly to Bryant Gumbel, Bob Costas and Ahmad Rashad."
Well, apparently Gossett was successful in getting Mensah out of Siena ... because he was just one of the five basketball players shot at Duquense University over the weekend. Mensah was one of the three players still hospitalized after an incident at a dance.
So, yeah ... thanks a lot, Lou.
Shocked Campus Responds With Prayer [Pittsburgh Post-Gazette]
Louis Gossett Jr., Hoops Savior [Deadspin]
(By the way, Gossett really is wearing a hat that says "U.S. Postal Inspector" in that picture. He and Jonathan Silverman are PROTECTING AMERICA.)