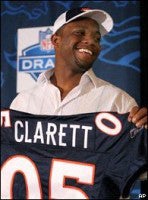 Word just came in about an hour ago: Former Ohio State running back Maurice Clarett has pled guilty to two felonies and will spend at least the next 3 1/2 years in prison. Jury selection was about to begin in the case, but lawyers accepted the plea of 7 1/2 years, with the first parole opportunity popping up in 3 1/2.
He should begin serving his sentence immediately; when he is released, assuming he makes parole, he will be 27 years old.
It is unknown whether members of the infamous "Jerusalem Group" Israeli mob have connections in his eventual prison, but Clarett, in an ultimately pretty sad end, definitely will have plenty of time to get back into shape and decrease that 40 time. Which, after all, very well might be the main reason he's in this predicament in the first place.
Clarett Pleads Guilty, Will Serve 3 1/2 Years [Columbus Dispatch]