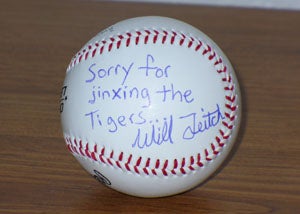 By now you've probably heard about the "apology balls" story, in which Pete Rose is supposed to have signed 300 baseballs with the words "I'm sorry I bet on baseball — Pete Rose", and is set to sell them at $1,000 a pop. That's what the New York Daily News said on Monday, anyway, in a rather glaring cover story that cast Rose as at most the devil, and at the least, a greedy schmuck.
And here's a surprise: Rose says he's innocent. And to clear his name, he of course went to the one news source we can all trust: ESPN's Quite Frankly with Stephen A. Smith. We watched the video of Rose's Monday night appearance — twice — and still have no freakin' idea what happened; no one in the studio made a lick of sense.
So we remain kind of hoping that this story is true, because it could open up an exciting untapped collectibles market. Imagine Terrell Owens footballs signed: "Sorry I'm such a dick — T.O." Other possibilities:
• "Sorry about the hatchet — Maurice Clarett"
• "Sorry for the last two minutes of the Oregon game — Pac-10 officials"
• "Sorry about the Lusitania — Kaiser Wilhelm II"
• "Sorry for the popped collar — J.J. Redick"
Pete's Signs Of His Sorry Times [New York Daily News]
Rose-Signed Balls: "I'm Sorry I Bet On Baseball" [ESPN]