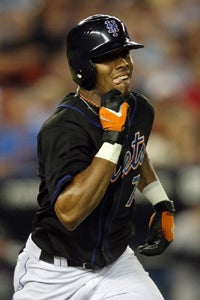 Congratulations to the New York Mets, who shook off the vexing enigma that is the Pittsburgh Pirates and beat the Florida Marlins 4-0 tonight to clinch the National League East title. They're the first team to punch the proverbial ticket to the playoffs, and now we can all breathe a sigh of relief that, for the first time in about 15 years, we don't have to watch dreary October Braves games with 20,000 people in attendance.
The ever-inventive Shea Stadium PR staff mercifully avoided "Our Team, Our Time" and played the hip-hop hit "Takin' Care Of Business" by East Coast gangsters Bachman Turner Overdrive.
We still hope that the Mets will find a way to expand their postseason rosters to include Vince Coleman, so that he will work as official tarp blocker.
So far, Pedro hasn't sprayed tiny people with champagne, but there's still time.
Congratulations, Mets. You know Paul LoDuca's gonna party like a rock star tonight.