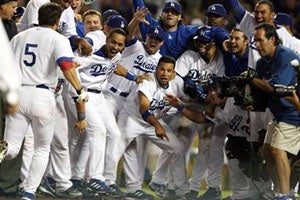 Notes from a day in baseball:
• 1. LaLaWood Fables. In Major League baseball terms, it was like your autistic team manager draining six three-pointers in a high school game. That's pretty much what happened on Monday, as the Dodgers hit back-to-back-to-back-to-back home runs (that's four) to tie the game in the bottom of the ninth, and then won it on Nomar Garciaparra's walkoff two-run homer in the 10th, 11-10 over San Diego. The win places LA back in the first in the NL West by a half-game over the robed ones. All of this in front of 55,831 at Dodger Stadium, and after San Diego had retaken the lead, 10-9, in the top of the 10th. Our tater parade in the ninth included Jeff Kent, J.D. Drew, Russell Martin and Marlon Anderson; the latter two on two straight pitches by Trevor Hoffman. The last time a team hit four consecutive homers, by the way, was on May 2, 1964 (Minnesota Twins, against Kansas City ... and we're betting that Harmon Killebrew was involved somehow).
• 2. Return Of The Gambler. After a dreadful stretch following the All-Star break, everyone's favorite cameraman batterer, Kenny Rogers, is 5-0 over his past eight starts. Magglio Ordonez hit a pair of home runs as the Tigers beat the White Sox 8-2, Detroit moving to 1 1/2 games ahead of second-place (and idle) Minnesota in the AL Central. Chicago lost despite turning a triple play, doncha know.
• 3. Aramis For Men. Aramis Ramirez went 4-for-5 with two homers, with seven RBI, as the Cubs handed the Phillies an 11-6 caning. Philadelphia was eliminated from the NL East race when the Mets beat Florida 4-0 earlier Monday to clinch the division title. And with the Dodgers and Padres trading slaps atop the NL West, the Phils just may remain 1 1/2 games back in the wild-card race forever.
• 4. Rockies Outscore Entire Monday Night Football game. Jeff Baker, who was just called up last week, hit a pair three-run homers as the Rockies beat the Giants (get this), 20-8. Baker hit his first major league home run in his final at-bat at Arizona on Sunday and then hit two more in his first two at-bats on Monday.
• 5. Bedard Late Than Never. Erik Bedard (15-9) won his third consecutive start and Corey Patterson hit a three-run homer, as the Orioles beat the Devil Rays 4-1. Oh, and the Cardinals lost a rather difficult game.