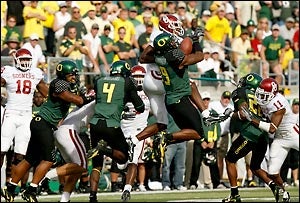 Attention Jeff George: If your son's Pee Wee football league needs referees this weekend, we know some guys who are available. After a wildly entertaining, somewhat comical ending that kind of reminded us of the final scenes in Caddyshack, the Pac-10 wound up suspending the officiating crew that mucked up the last minutes of the Oregon-Oklahoma game on Saturday. Balls were tipped, onside kicks erroneously awarded ... look, mistakes were made, OK? But the suspensions (for one game) and an apology from the Pac-10 did not mollify Sooners coach Bob Stoops, whose team lost 34-33:
I've made a million mistakes. I'll make a million more in each game, and in that game included, I wish there were things I could have done differently or changed. Unlike officials, players and coaches don't have that opportunity. They had an opportunity to get it right and they chose not to. So I find it still absolutely inexcusable and unacceptable.
At least we can take comfort in the fact that Oklahoma fans are taking it all in stride. Gordon Riese, the replay official who failed to overturn a crucial onside kick recovery call in the final two minutes, says he has received death threats:
I'm struggling with it. I feel so bad I missed that call, it's driving me crazy. I can't sleep, I can't eat, my blood pressure is skyrocketing. They not only threatened me, they threatened my wife and kids.
What, his pets get off Scot free?
Pac-10 Suspends Officials One Game [MSNBC]
Instant Replay Official Receives Death Threat [MSNBC]
Sooners Disagree With Review Calls [The Oklahoman]
That's Not A Fun Way To Lose [Deadspin]