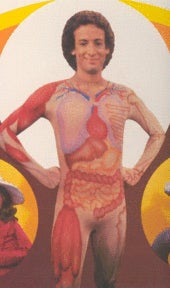 Steelers quarterback Ben Roethlisberger made his return from an appendectomy — and, ostensibly, from that little head-vs.-pavement business — last night, and it didn't go well, with the Jaguars shutting out Big Ben and the Steelers 9-0 on Monday night. It was the lowest scoring game in Monday Night Football history.
As one might expect, much of the broadcast concerned Roethlisberger, particular that darned appendix. The good souls at CooterPunch actually have video of Michele Tafoya's in-depth report on all matters Roethlisberger appendix, and may it please be the last time the phrase "large intenstine" appears on a "Monday Night Football" broadcast.
By the way, we continue to await Tony Kornheiser cutting loose, or doing much of anything, on these broadcasts. As The Mighty MJD put it at The Fanhouse last night, "he's got to stop approaching this like he's Trent Dilfer, and start going after it like Brett Favre."
Monday Night Football Appendectomy [CooterPunch]
The Kornheiser Chronicles, Week 2 [The Fanhouse]