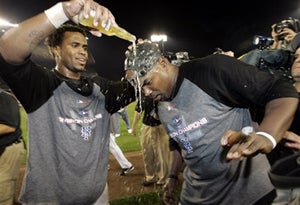 As established late last night, the Mets clinched the National League East last night behind the gorgeous athletic stylings of Jose Valentin.
As you'd expect, the Mets fans are feeling all warm and fuzzy today, even if their spouses/significant others/imaginary friends weren't particularly excited about having cheap champagne sprayed all over the couch.
• Faith And Fear In Flushing: "There was a final line drive and a lot of yelling and drinking of warm, properly smuggled champagne and a long, happy subway ride home with the exhilirated faithful. Tonight my 7 car was filled with booming Mets chants all the way to 42nd Street, despite various Met rooters being disgorged for the LIRR, the 4/5/6 and the B/D/F. They were still chanting on the 2/3 platform at 42nd, and I could hear them all the way down to 14th. (LET'S! GO! METS!) and then Chambers (LET'S! GO! METS!), the chants and sightings gradually dwindling until finally I got off at Clark Street and there was just me."
• The Eddie Kranepool Society: "WOW! How great does it sound, New York Mets 2006 Eastern Division Champs. I started this blog 5 years ago mostly to vent about the way a team that went from a pennant winner was going down the drain and back into the abyss like what I lived thru in the 70's. Just about every post from 2001-2004 was me pissing and moaning."
• Metstradamus: "There are things on this earth that I'll never be able to explain. Gravity...luncheon meat...the fascination with singing "Sweet Caroline" at sporting events...and Steve Trachsel not only pitching effectively, but swiftly, when the odds and a three game losing streak to keep the magic number at one staring him square in the eye."
We found out yesterday that we have tickets to Game 2 of the NLDS at Shea. Here's hoping they're not playing the Cardinals. Kudos, Mets.