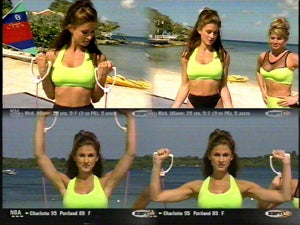 Remember "BodyShaping?" That old ESPN show that featured, uh, people in Spandex lifting things and hopping around at a location of indistinguishable but distinctly beach-like flavor? Well, the host of that show was a woman named Jennifer Dempster, and, as MJD touched on this weekend, she recently married "College GameDay" host Chris Fowler.
(Confession: We like Fowler. He deals with the other yahoos in ESPN college sports well enough, keeps the show moving and has a rather cute obsession with Metallica. He quoted James Hetfield at his wedding, apparently.)
Anyway, someone — maybe Dempster — has compiled countless shots of "BodyShaping" and put them on the Web, and we're reminded again just how many times we watched that show while covered in cigarette ash, Natural Light and chocolate-covered peanuts. Yeah. We're charmers.
BodyShaping Photos [Epson Albums]

The TV Fitness Host And The Sportscaster [Manhattan Bride]
(UPDATE: Turns out they've been married for a few years now, which is all the better.)