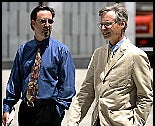 So we don't know if you knew about this or not, but this Thursday, Lance Williams and Mark Fainaru-Wada, the authors of Game Of Shadows, the exhausting piece of investigative reporting that stunned the world by revealing that Barry Bonds (no!) used steroids, will face a judge at Phillip Burton Federal Building and U.S. Courthouse in San Francisco at 1:30 p.m. Are they receiving a medal? Are they being injected with HGH? Nope: They're dealing with a subpeona demanding them to give up their sources for the book. (We apologize for linking to Lupica there, by the way.)
That's right: It's possible that the only people who go to jail because of that book are Bonds' trainer ... and its writers.
Journalists, quite understandably, are all a-twitter about this, and several sports journalists will be making the trip to the courthouse and protesting like crazy. (And real ones, too: Mariotti will be too busy being made more famous to attend.) It's not just a matter of the First Amendment; it's the matter of confidential sources being how so many of us make our living and inform a thirsty public, journalists and swarthy, filthy bloggers alike.
Something you should be aware of, anyway. We mean, you've seen what they do to child molestors in prison; can you imagine what they'll do to journalists?
Truth Shall Not Set You Free [New York Daily News]
(By the way, while we agree with Lupica's general point, we don't quite understand what President Bush has to do with this. We thought he hated steroids? We think Lupica just wanted to rant a bit.)
(UPDATE: Jeff Brohel of The Baseball Report has a smarter take than Lupica on this.)