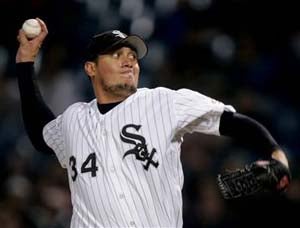 Notes from a day in baseball:
• 1. I'm Pretty Sure I Didn't Want That Undercoating. Our headline for this item comes from a commenter (Parker91), referring to the film Fargo, we'd guess. But it may also apply to our home team in the Motor City, which should have gone for that unpopular new-car option. Detroit's once-proud 10-game lead in the AL Central was reduced to a half-game over the Twins after a 7-0 drubbing at the hands of the White Sox on Tuesday. This time it was Freddy Garcia doing the damage, throwing a one-hitter over eight innings (hey, all you A.J. Pierzynski fans out there, your man hit a grand slam as well). The Twins, meanwhile, beat Boston 7-3 (are the Red Sox even trying?). Garcia (15-9) came within four outs of a perfect game.
• 2. The Padres Are Back, And They're Pissed. San Diego is back in first in the NL West, as Trevor Hoffman earned his 476th career save and Mike Cameron had a three-run homer to lead a 5-2 win over Arizona. The Padres are a half-game ahead of the Dodgers, who had hit five homers in the ninth and 10th innings to beat San Diego, 11-10, on Monday.
• 3. One Is The Loneliest Number. The New York Yankees can clinch the AL East with a win today, after reducing their magic number to 1 with a 6-3 win over the Blue Jays on Tuesday. Said Joe Torre: "This is what you wait for. You wake up in the morning and know something special can happen." Yes, many Yankee managers have said that very thing, only it had to do with a pink slip. Oh, and Sheffield's back!
• 4. Grady Little Just Pawn In Game Of Life. Freakin' Pirates! Taking advantage of the Dodgers' humongous hangover, Pittsburgh did to LA what they had done to the Mets last week: inexplicably cease to suck. The Dodgers dropped back into second place in the NL West with a 10-6 loss, the Pirates getting a grand slam from Jose Bautista and a win from the immortal Ian Snell.
• 5. Incoming! For the record, the Giants have given up 32 runs in the past two games. So, you know, purchase those playoff tickets while they last.