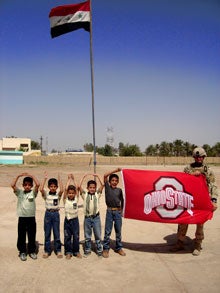 You might remember back in June, when Deadspin reader Tom Knox sent us this picture of his brother Sgt. Adam Knox, of Whitehall, Ohio, spreading the Ohio State love in Iraq.
Well, some tragic news, reported to us from Tom: Sgt. Knox was killed in Iraq over the weekend when his patrol "came under fire from enemy forces." Sgt. Knox was a member of the Army Reserve 346th Psychological Operations Company based in Columbus, and he had been deployed to Iraq in February. He was 21 years old.
Our deepest sympathies to Tom and the rest of the Knox family during this unfathomable time.
Ohio Soldier Killed In Iraq [WKRC]
Spreading The Buckeye Love In Iraq [Deadspin]
After the jump, a photo Tom sent us of his brother.
————————————————————————————-