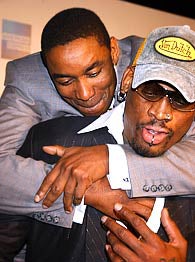 Some good news for Isiah Thomas (seen here having dinner with Dennis Rodman at an Outback Steakhouse): He is actually able to establish a functioning work environment! Who knew?!
Mind you, according to the Equal Employment Opportunity Commission, that work environment is one that's openly hostile to women, particularly former Knicks senior executive Anucha Browne Sanders, who has filed a sexual harassment suit against Thomas and the team. But hey, Thomas is making strides: When he ran the CBA, by the time he was done, there was no work environment whatsoever. So in a way, it's an improvement.
It's important to remember that the Equal Employment Opportunity Commission's findings are not a jury trial or anything, confirming once and for all that Thomas fostered an atmosphere of sexual harassment and then tried to save himself by accusing the accuser of just being out for money. That confirmation won't happen until later, though, by then, Thomas will surely have hired Jerome James to represent him.
Report Supports Claims In Suit Against Thomas [New York Times]