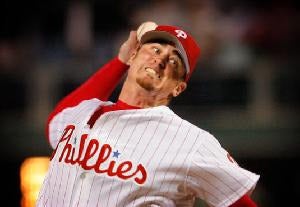 Notes from a day in baseball:
• 1. Gonna Fly Now. With both the Dodgers and Padres bumping each other on the rail, the Phillies saw their opening on the outside and made their move. (Did that make any sense? We haven't been to a horse race in a long time). Brett Myers threw a complete game — his first in more than year — and Chase Utley was at his Utleyest, and Philadelphia took a 6-2 win over Chicago on Wednesday. With the Dodgers losing to Pittsburgh 6-4, the Phillies moved into a tie with LA for the NL wild-card lead. San Diego also lost, 8-2 to the Diamondbacks despite the pitching stylings of David Wells, but the Padres stayed in first in the NL West by a half game over LA. Got all that? Utley hit a two-run homer, by the way.
• 2. He's Got Game. We know we've been neglecting the Athletics of late; they're winning their division handily, after all. So let us talk now of Milton Bradley and Frank Thomas, and raise our mugs and drink heartily to the good times. Bradley homered and singled home the tying run, and Thomas doubled in the winning run in the seventh, as the A's beat the Indians 4-3. Cheers.
• 3. Freakin' Marlins! Dontrelle Willis hit two home runs, had a run-scoring single and pitched eight-plus innings in Florida's 6-3 win over the Mets. The Marlins are four games behind of the first-place Dodgers and Phillies in the NL wild-card race, with (produces out calculator; begins typing furiously) 10 games remaining.
• 4. The Night Chicago Died. As the Tigers cling doggedly to their slim lead in the AL Central, we nonetheless refuse to abandon the mattress we're holding beneath them at the bottom of the ravine. After a 6-2 win over the White Sox (please play "Taps" here), Detroit remains a half-game ahead of the Twins. The White Sox are six games back in the Central, 5 1/2 in the wild-card race.
• 5. Fifty Ways To Leave Your Lover. David Ortiz hit is 50th home run, but Boston lost 8-2 to the Twins and Boof Bonser, who won his third straight decision. It's officially all over for the Red Sox in the AL East, as you no doubt are aware. As Matt Damon said in a noteable movie set in Boston, how do you like them apples? (We've never quite understood what was so clever about that line, by the way.)