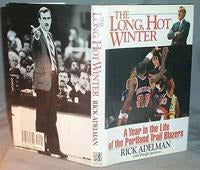 It's hard to believe, but the NBA season is just around the corner (no, not that corner; that's curling). We don't know about you, but we've barely had time to miss Ron Artest and Mark Cuban before they're back again. And that's a good thing. So let us celebrate with five tiny tidbits on each team, starting with the Pacific Division and that jailbreak known as the Portland Timber Wolves. We'll rip through the rest of the Pacific D. this week and next, so do us a favor and send us your tips on those teams via tips@deadspin.com.
• 1. You Stay Classy, Portland. First of all, we're not resorting to that "Jail Blazer" cliche that's so popular these days. That's too easy, and we don't care for stereotypes. So we're going to begin with ... wait, this breaking news just in. "Portland Trail Blazers forward Zach Randolph was cleared of sexual assault complaint allegations after prosecutors said there is no testimony or evidence to corroborate the story of the woman who accused him." And this isn't the first time he's gotten into trouble. Sorry. We know we already mentioned this today.
• 2. Local Heroes. At a time when the Sonics have half a foot in Oklahoma City, two Seattle products are playing three hours south for Portland. Both Brandon Roy and Martell Webster played their high school ball in Seattle. Roy was a senior at Garfield High when Webster was a freshman at Seattle Prep — but because Roy spent four years at the University of Washington and Webster entered the draft after high school, Roy is the rookie and Webster is a veteran entering his second season. In addition, Dan Dickau was born in Portland, and attended the University of Washington befire transferring to Gonzaga. (Thanks to Seth Kolloen).
• 3. Go, Teams. Jarrett Jack got the most out of his four-year high school career, actually attending four different high schools: DeMatha Catholic High School; St. Vincent in Maryland; Mount Zion Academy in North Carolina and Worcester Academy in Massachusetts. His Portland teammate, LaMarcus Aldridge, attended just one: Seagoville High in Dallas. Inexplicably, his Wikipedia entry links to a Seagovile entry which includes a photo of his locker, and some trash in a campus pond. We also learn that, at Seagoville, "all backpacks must be transparent (clear) or mesh."
• 4. Don't Know Much About History. Darius Miles has had roles in two movies: The Perfect Score (2004) , and National Lampoon's Van Wilder. In the former, he plays a high school basketball star who needs to achieve a qualifying SAT score to attend St. John's University, where he is eventually successful. In real life, Miles attended East St. Louis High, and after failing to receive a qualifying SAT score to attend St. John's, entered the 2000 NBA Draft.
• 5. And His Wife Wears Chinchilla. Joel Przybilla will keep auditioning nicknames until one sticks. At various times he has been dubbed "The Thrilla", "Joelthrilla", "Joelzilla" and "The Vanilla Gorilla". Meanwhile, guard Martell Webster has possibly the goofiest nickname in the NBA: "The Definition."