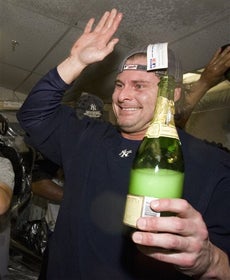 You know, it really is kind of weird when a team has a big champagne celebration after they've lost a game. We know they've earned it, and we know they've got it coming. But it still seems strange to lose a game, go back to the locker room, turn on the television, see a final score in a game played in an entirely different country and say, "Well, all right, we guess we should go crazy now." It just doesn't seem natural.
Anyway, no matter the circumstances, the Yankees clinched the American League East last night, thanks to the Red Sox's loss to the Twins back in Boston, forcing Jason Giambi to do whatever the hell he's doing in that photo. (We prefer to think there's not actually across from him waiting to be high-fived; that's just a natural body movement for Jason.)
The Yankees are one game ahead of the Tigers for the best record in the American League and home-field advantage throughout the playoffs. And we're gonna have at least two, most likely more, cold October nights in the Bronx, with cuts to Rudy Guiliani in his box seats and Brian Cashman looking like he needs to go to Jeff Van Gundy's personal tanning salon. That's how you know it's October, after all.
This Never Gets Old [Bronx Banter]