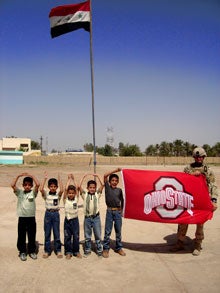 Yesterday, we told you the sad story of Sgt. Adam Knox, the Ohio State fan who was killed in Iraq over the weekend. HIs brother, regular Deadspin reader Tom Knox, writes about the infamous OSU Iraqi kids picture, his brother's obsession with getting to Columbus, watching Texas-OSU in Iraq and the tragedy of the last week. His words are below.
I'm Tom Knox (commenter name: Christ Sabo). Deadspin has been a source of great pleasure for me in the last few months, whether it be commenting with the likes of giants such as UnsilentMajority or reading stories on the follies of my university, Ohio State. My most treasured moment, however, is when the story of my brother, Sgt. Adam Knox, was posted to Deadspin. The photo accompanying it was of a soldier with Iraqi kids posing with an OSU flag. I originally thought Adam took the picture, but he later told me that he didn't, that one of his buddies did. However, the flag very well may be his. The picture has spread like wildfire among Buckeye fans, and I just thought it important to point this out.
Not being behind the lens of the camera, however, didn't make Adam any less of a Buckeye fan or a soldier. During the OSU-Texas game, Adam watched the game over in Iraq, even though it was 2 A.M. there. He had been in Iraq for about 6 months and planned on using his leave around the OSU-Michigan game. After his tour, he was thinking about going to OSU — basically, he was a typical Buckeye nut and sports helped keep his mind clear over there.
He was attached to another unit separate from his normal Psychological Operations unit in order to assist in Baghdad for a few weeks. He told my mother that he had only about another week left of dangerous missions in Baghdad, than he would be sent back to his unit to train soldiers and do light work. He had one more week of real danger left, he thought. He was promoted to Sergeant after only 3 years in the Army, a quick rise. In fact, he was promoted to Sergeant on September 15.
However, he'd only get to enjoy that promotion for 2 days. A little after 4P.M. Baghdad time, he was on patrol in a vehicle. He encountered small arms enemy fire and was killed instantly. We still don't know any more details or when the body will come home. This was a huge shock to my family, especially my mother, who has overcome a lot the last few years, including my father's death. That's really all I can type right now, it's hard to say much without getting angry and what not. I look forward to reading the comments and I think it'll bring a smile to a otherwise dreary week for my family and me.
Soldier Killed In Iraq Always Had OSU In Mind [Columbus Dispatch]