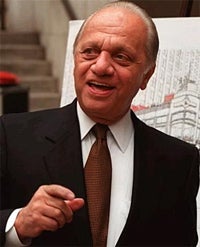 Somewhere near Camden Yards, right now, there is a lonely protestor, looking for his or her fellow protestors, hoping he or she doesn't make a wrong turn. It is Baltimore, after all.
Today is the big fan protest of the Orioles and owner Peter Angelos, taking place outside Camden Yards before the 4:05 ET first pitch against the Detroit Tigers. The fans are buying the cheapest tickets possible, shooting for nearly 10,000 upper deck seats, presumably leaving the seats that are closer to the field empty. And THAT'LL send a message.
We support Baltimore fans' anger with Angelos, who is pretty much pulverizing a once-great franchise into dust. And hey: Kris Benson's pitching today, so maybe if Angelos doesn't sell the team, she can promise that she'll sleep with all protesting fans. Though that might or might not improve turnout.
Fan Protest [WNST]