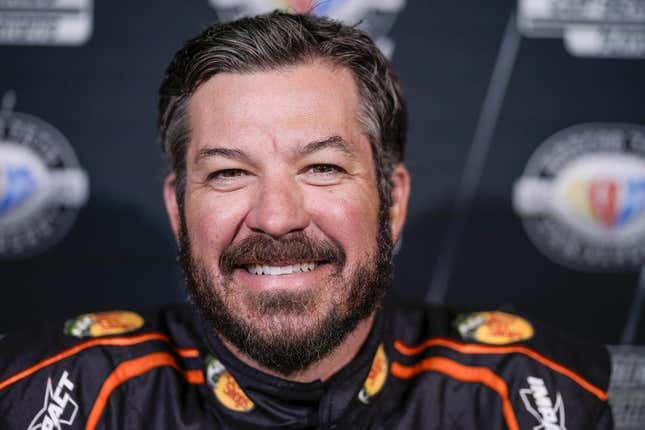 The 10-race playoff chase for the 2023 NASCAR Cup Series championship begins with Sunday's Cookout Southern 500 at Darlington Raceway.
Is Texas or Florida State a bigger national title contender? | Agree to Disagree
The track "Too Tough to Tame" was the site of the Goodyear 400 in May that was won by William Byron, who enters the playoffs tied atop the standings with Martin Truex Jr. at 36 points.
Truex claimed the regular-season title for the second time in his career. The first time was in 2017, when the now 43-year-old also went on to claim his first Cup Series championship.
Our motorsports experts preview Sunday's race and provide their best bets to win along with a red-hot driver with surprisingly long odds to keep an eye on.
COOKOUT SOUTHERN 500
Darlington Raceway, Darlington, S.C.
The Date: Sunday, Sept. 3, 6 p.m. ET
The Distance: 500 miles
Defending Champion: Erik Jones
Cup Series Leader: Martin Truex Jr.
TV: USA Network
Radio: SiriusXM NASCAR Radio
5 BEST BETS
Martin Truex Jr. (+500 at BetMGM)
Truex is coming off a 24th place finish at Daytona despite winning Stage 1, ending a string of six consecutive top-7 finishes that included a win at New Hampshire. Truex, who has three wins among nine top-5s this season, has been backed by the second most money at the book at 9.4 percent.
Kyle Larson (+525)
The 2021 Cup Series champion limped into the playoffs with finishes of 26th and 27th the past two weeks. In fact, Larson has failed to crack the top 15 in five of his past eight starts and finished 20th at Darlington in the spring. But this is the playoffs, and Larson is always a major threat. His odds have shortened since opening at +600, with Larson leading the book with 15.0 percent of the money wagered on Sunday's winner, making him BetMGM's third-biggest liability this week.
William Byron (+750)
Five of Byron's nine career victories have come at tracks in this year's 10 playoff races, including Darlington and each of the final four tracks on the schedule. Truex said it's "comforting thing to know that. But I don't want to think too far ahead and get too excited about Vegas or even Phoenix, because we're not there yet." Byron led the circuit with five regular-season wins to start the playoffs even with Truex. Despite that success, Byron has received modest action at the book, drawing just 4.5 percent of the bets and 3.2 percent of the money since opening at +600.
Denny Hamlin (+800)
Hamlin, who hasn't signed a new contract with Joe Gibbs Racing for next season yet, enters the playoffs in the third position with 25 points. He's coming off a 26th place finish at Daytona following a runner-up at Watkins Glen. Hamlin has five top-7 finishes in his past seven starts, including a win at Pocono, and leads the book with 9.3 percent of the total bets backing him to win along with the third-most money at 8.1 percent.
Kyle Busch (+1100)
Busch is a two-time Cup Series champion as he attempts to bring Richard Childress Racing its first championship since Dale Earnhardt Sr. claimed his final title in 1994. Typically popular with the public, Busch is second at the book with 7.6 percent of the total bets backing him despite only two top-10s in his past seven races.
"To have the history and the legacy of RCR and everything that they've done over the years — with Earnhardt and with the other drivers that have been there ... yeah, it's been a little quiet lately, but that would be nice to shake that up," Busch said of potentially ending RCR's title drought.
LONGSHOT PICK
Chris Buescher (+2200)
Buescher is being offered at enticing odds despite entering the playoffs in fourth place tied for second with three victories this season. All three of those victories have come in Buescher's five starts, with the other two finishes being seventh and 11th. Buescher and teammate Brad Keselowski, co-owner of Roush Fenway Keselowski Racing, both qualified for the playoffs.
—Field Level Media