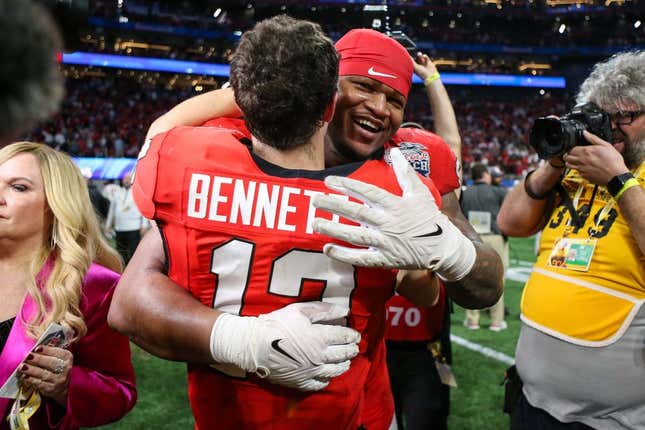 No stone unturned would undersell the level of detail teams uncover on prospects in the year leading up to their draft eligibility.
Aaron Rodgers should go full Joe Namath | Comedian Bert Kreischer
NFL front offices use their scouting staffs and security details to become prospect investigators during the evaluation process.
As one general manager put it, "We know about your first girlfriend and your last girlfriend, if you were a good teammate, love the game and what you eat for breakfast."
Interviews at the Senior Bowl, Scouting Combine and other campus visits or phone calls with teams serve as tools to compile a complete profile of every player on the draft board for all 32 clubs.
In some cases, these details complete a puzzle that leads to an owner or front office deciding to remove a player from their draft board.
Below are players with "red flags," or known off-field markers teams are weighing before the April 27 draft.
1. Jalen Carter, DT, Georgia: Reports of teams questioning Carter's maturity percolated before a very public exit from the combine to turn himself in to police who secured an arrest warrant for the misdemeanor charge of reckless driving and racing following his involvement in the January 2023 fatal car accident resulting in the deaths of Georgia teammate Devin Willock and team staffer Chandler LeCroy. Carter pleaded no contest. He agreed to a deal with 12-month probation, a $1,000 fine, 80 hours of community service and the mandatory completion of a driving course. Teams will do their own work to determine Carter's culpability, evaluate his maturation and decide if he can become a professional. The other piece of the picture is clear-cut: Carter is arguably the best defensive player in the class, virtually unblockable and a disruptive and dynamic talent who has only one year of starting experience.
2. Stetson Bennett IV, QB, Georgia: No denying Bennett's underdog story and success on the field deserves the headline attention it garnered, but NFL teams aren't easily swayed by media attention. Recent reports indicate some teams have given Bennett a grade outside of the seven rounds in the draft. But his resume is clouded by a poor pre-draft process. He turned down an invitation to the Senior Bowl and soon after was arrested for public intoxication. The 25-year-old might have won over some with his senior season and generally showing remorse at the combine, but questionable off-field decision-making is a death knell for quarterbacks.
3. Brenton Cox, DE, Florida: Booted from the Georgia program heading into the 2019 season, Cox performed admirably on the field at Florida. But his off-field issues resurfaced in Gainesville and he was again sent packing. He has draftable talent but faces questions from scouts likely to take Cox off the board or place him on a very short leash in prove-it mode.
4. Kayshon Boutte, WR, LSU: Boutte stayed put prior to the 2022 season despite rampant rumors he was entering the transfer portal. He again went against reports that implied he'd be back for his senior season and swiftly reversed course to enter the draft. Teams will want explanations and could have additional reservations after his 2021 injury seemed to limit him in 2022.
5. Mazi Smith, DT, Michigan: Smith was a team captain at Michigan and multiple coaches in and around the program vouch for his approach, but an October arrest for carrying a firearm without a license will have teams digging. He was not suspended, the charge was reduced to a misdemeanor, and best case for his NFL chances is apologizing for the one-off incident and not allowing it to spark a pattern of poor behavior.
--Field Level Media