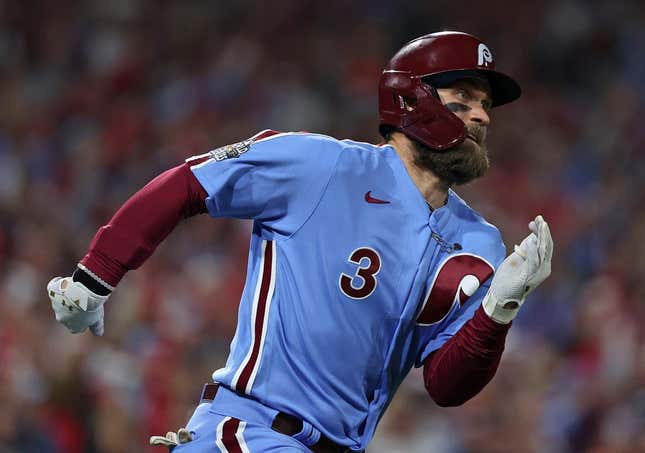 2022 record: 87-75, third in National League East
Offseason headlines: The Atlanta Braves and New York Mets dominated the headlines with 101-win seasons, but it was the third-place Phillies who went all the way to the World Series. Despite losing to the Houston Astros, the Phils firmly believe they aren't a one-year wonder by signing free agent superstar shortstop Trea Turner to an 11-year, $300 million contract.
Aaron Rodgers should go full Joe Namath | Comedian Bert Kreischer
Turner's megadeal aside, Phillies executive Dave Dombrowski added Taijuan Walker to the back of the rotation, signed veteran relievers Craig Kimbrel and Matt Strahm and traded for All-Star closer Gregory Soto. As usual, Dombrowski is building a roster capable of a Fall Classic run.
Spring storylines: Turner is just what the Phillies needed, an ideal leadoff man with speed who can get on base and hit for power as the catalyst of a potent lineup. He's been one of the game's best the last four seasons.
Not to be overshadowed by the Turner signing, losing Rhys Hoskins to a torn ACL on Thursday and Bryce Harper (Tommy John surgery) until at least June is a tough pill for the Phillies to swallow. And when Harper does return, he may serve as the full-time designated hitter. An outfield that includes Kyle Schwarber and Nick Castellanos isn't ideal defensively, but the Phils don't have much of a choice right now.
"(Harper's) doing great, very well," Dombrowski said this week. "He feels good. He's not having any setbacks, whatsoever."
Young guns: The club's No. 6 prospect per MLB.com, Andrew Painter was competing for the No. 5 spot but sustained a sprained proximal UCL in his right elbow. He has not thrown since March 1, but the Phillies are confident he'll recover without surgery. Dombrowski expects Painter will pitch for the club in 2023.
Fall feeling: A strong, deeper rotation, and an improved bullpen and infield defense, should push the Phillies past the 90-win mark. If either the Braves or Mets falter, the division race could be Philadelphia's for the taking.
Odds, even: Despite their 2022 World Series appearance, the Phillies have the third-best odds (+350 at FanDuel, +370 at DraftKings) to take the NL East and the eighth-best odds (+1500 at FanDuel, +1700 at DraftKings) to win it all.
--Field Level Media