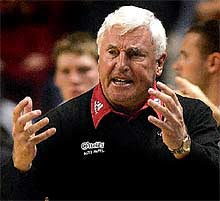 Among delighted viewers of Saturday's college football win by Oregon over Oklahoma was one Robert Montgomery Knight, and frankly we're surprised it took him this long to say something about it. In Jan. 2003, the host Sooners beat Knight's Texas Tech, 69-64 in overtime, after two clock controversies in the final seconds of regulation. And so when Oregon beat Oklahoma 34-33 in football last week, apparently aided by two blown calls by the replay official in the final two minutes, Knight wasn't exactly in tears.
"Maybe now those people at Oklahoma understand what I was talking about," Knight told The Oklahoman for Thursday's editions. "Had Oklahoma forfeited that game against us like I suggested, they would have gotten far more positive publicity out of that than if they had gone to the Final Four that year. Now I guess the duck is swimming in the other pond. And you make sure they get this message. I want them to be that much more enamored with me over at that place."
Bob Knight's the best. Just to remind you, he loves golf too.
Knight Knows How OU Fans Feel About Forfeit [The Oklahoman]
Hey, Can I Get A Do-Over? [Deadspin]