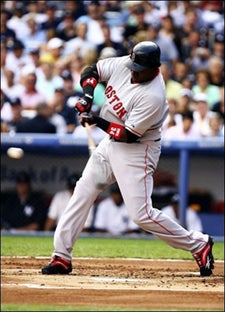 Notes from a day in baseball:
• 1. A Cup Of Coffee In First Place. Hey, did anyone notice that the Twins finally moved into first place in the AL Central ... for about three hours? They're back in second now, thanks to David Ortiz, whose two home runs — Nos. 51 and 52 to break the team record — led Boston to a 6-0 win over Minnesota on Thursday night. Earlier Thursday, the Orioles had beaten the Tigers 4-3. Detroit is a half-game ahead of the second-place Twins. But back to Ortiz, who broke Jimmie Foxx's team record of 50 homers set in 1938. There was wild celebration and hugs all around in honor of Ortiz's feat ... um, is that warranted, seeing that the Red Sox are out of the playoffs? You be the judge; we're going in for a short nap.
• 2. He's The Hoff. Speaking of records, Trevor Hoffman is pursuing one that is helping his team make the playoffs. Hoffman got his 477th save — one shy of Lee Smith's major league record — to help San Diego beat Arizona 3-1. The Padres are a half-game ahead of the Dodgers in the NL West, who beat the Pirates 5-2.
• 3. Vote For Pedro. The Freakin' Marlins beat Pedro Martinez and the Mets 5-2 and are four games back of the Dodgers in the wild-card race. Martinez, who faced the minimum 12 batters through four innings, striking out five, is expected to make one more start before the playofs.
• 4. To Recap, The White Sox Are 'Pathetic'. We think we saw an actual white flag waving from the White Sox dugout on Thursday, as Ozzie Guillen called his team "pathetic" after a 9-0 loss to the Mariners; Chicago's sixth loss in seven games. "Right now I feel embarrassed. My team should feel embarrassed. People are paying to watch us play and that was pathetic,'' Guillen said. "The way we played today was real pathetic.'' The White Sox are six games behind first-place Detroit in the AL Central, and 5 1/2 games behind the Twins in the wild-card race.
• 5. That's Stinkin' Thinkin', Moises. Moises Alou is calling it. The Giants are dead. "I think everybody can look at themselves in the mirror and at least say, 'We tried,''' Alou said after a 9-4 loss to the Brewers. SF is 4 1/2 back in the wild-card race, and 5 back in the NL West, with 10 to play.