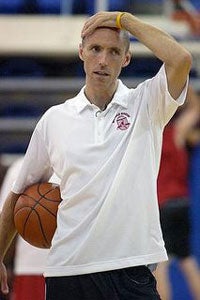 It's hard to believe, but the NBA season is just around the corner (no, not that corner; that's curling). We don't know about you, but we've barely had time to miss Ron Artest and Mark Cuban before they're back again. And that's a good thing. So let us celebrate with five tiny tidbits on each team, today continuing with the Pacific Division and that phenomenon known as the Phoenix Suns. We'll rip through the rest of the Pacific D. next week, so do us a favor and send us your tips on those teams via tips@deadspin.com.
• 1. I'm Pissed Now, Joboo. Brazilian Leandro Barbosa, who was born in S o Paulo, is known as Leandrinho ("Little Leandro") or, "The Brazilian Blur." He is completely normal, except for his habit of eating raw cow's liver with beans every day, which he feels "is where I get my talent." He says it is hard to do, but without it, he feels weak.
• 2. The Round Mound Of Renown. It is said that Charles Barkley "put Phoenix on the map" when he was traded to the Suns by the 76ers for Jeff Hornacek, Andrew Lang and Tim Perry in 1992. After playing two years for Auburn, Barkley tried out for the 1984 Olympic team, where coach Bobby Knight ordered him to report for tryouts at 260 pounds or less. Barkley reported at exactly 292 pounds, and Knight eventually cut him. But not before a defensive breakthrough: During one scrimmage, Barkley took a charge. Knight stopped practice, walked onto the court with a piece of chalk and immortalized the spot by writing on the floor, "this is where Charles Barkley took his first charge."
• 3. For Lucky Best Wash, Use Mr. Sparkle. Shawn Marion has a tattoo of his nickname, "The Matrix," on his leg, written in Japanese. However, when translated into English, the tattoo actually reads "demon bird moth balls."
• 4. With A Song In His Heart. Two-time NBA MVP Steve Nash is, for some reason, an inspiration for musicians everywhere. In Nelly Furtado's 2006 single "Promiscuous," she asks, "Is that the truth or are you talkin' trash, / Is your game MVP like Steve Nash?" Furtado, like Nash, grew up in Victoria, British Columbia. Then there is rapper Cam'ron, who makes a reference to Nash in the song "Get 'em Daddy" featuring Hell Rell when he says "I got weed hash, When I breeze past, Breathe fast, Eat ass, On point like Steve Nash".
• 5. A Real Dark Horse. Amare Stoudemire, whom Charles Barkley refers to as 'Hellboy' on TNT's Inside the NBA, undoubtedly holds the NBA record for most high schools attended. He went to six high schools.