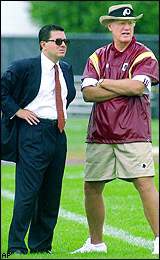 Former ESPN exec Mark Shapiro, the man responsible for Stephen A. Smith, Skip Bayless, "Teammates," so on — left the network on October 1 to join Redskins owner Daniel Snyder in the running of the Six Flags amusement park franchise, as CEO. The reviews on his performance so far have been been mixed at best, but now he's trying to turn it around with a gimmick from his television past.
For the month of October, if you want to cut in line for a ride at Six Flags Great American in Gurnee, Illinois, all you have to do is eat a live cockroach. You have to gulp down the three-inch horned cockroach, live, and then you and three others will be able to hop to the front. It's really that simple.
Mock if you will, but there's no way "Quite Frankly" wouldn't be more entertaining if Stephen A. had to scarf down live bugs at the end of every episode.
Eat A Cockroach, Go To The Front Of The Line [Associated Press]