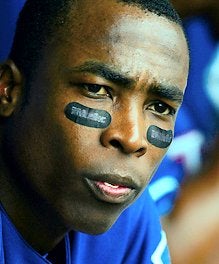 Forty. Forty. Forty. There was a time in the not-too-distant past when seeing that word three times in a row would mean that I had 120 ounces of this garbage coursing through my veins. Today, however, it represents the remarkable accomplishment of Alfonso Soriano, becoming the first ever member of the 40/40/40 Club.
Soriano's come a long way from the beginning of the season, when he was the selfish prick in Washington who refused to move his defensively deficient ass to left field.
That's 40 home runs, 40 stolen bases, and 40 doubles, if you're wondering about the extra 40. Adding the doubles to create another statistical achievement, to me, seems a bit contrived, but that doesn't make it any less impressive. It's baseball. Numbers are very big in baseball, and if nothing else, it's still 80 extra base hits, which is impressive on its own. And 40/40/40 just sounds cool.
Does it still qualify as a club if there's only one member? They won't be collecting a whole lot of dues in that club, but they'll save money in constructing the treehouse. And at least it gets him out of the 40/40 club, which has some unsavory members.
Soriano becomes first 40-40-40 player as Nationals beat Mets 3-2 [Metro]
Alfonso Soriano Regrets Joining 40-40 Club After Meeting Other Members [The Onion]