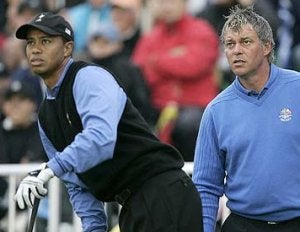 I realize that golf isn't that big of a deal here at Deadspin, unless Tiger Woods is whiffing on an awkward high-five, or Phil Mickelson is choking away a tournament on the 72nd hole. But the Ryder Cup is one of the few events in sports when the competitors involved care about the outcome as much as the fans do. The intensity involved is matched by few other events on the sports calendar. For evidence of this, watch the end of it tomorrow, and if the Europeans win, Colin Montgomerie might actually jump.
And it pisses me off that it's not televised live. Yeah, I'm aware that it tees off about 3:00 a.m. Eastern time, but, at least in my view, this is a legitimate big-time sporting event. We can't bump some of the 3:00 a.m. programming to find a spot for The Ryder Cup? I'm sorry if I sound skeptical, but no, I don't believe that that Donald Trump infommercial is going to change my life. Let's see FIGJAM lip out a four-footer instead.
Anyway, given that my day is going to consider of watching sports and being on the internet, there's no way I could avoid seeing the results ahead of time.
If you're watching it on NBC, enjoy. If not results are just after the jump.
Yeah, we're getting our asses worked. The highlight of the day was Stewart Cink and Zach Johnson losing 5&4 to Paul Casey and David Howell, complete with a Paul Casey hole-in-one. Awesome. Jim Furyk and Tiger Woods probably going to give us our only win of the afternoon Foursomes, which will leave it 10-6 heading into tomorrow's singles matches. We'll have to get 8 points out of a possible twelve to bring home the Cup.