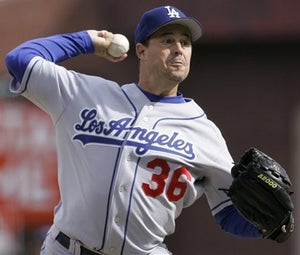 If we've learned anything about Octobers the last few years, it's that the month tests, stretches and hones every aspect of loyalty fandom. Typically, we pretty much just tell our friends that we'll see them sometime in November. It's a stressful time.
Therefore, to adequately preview the madness that is the baseball playoffs, we've invited some of our favorite bloggers for each of the eight playoff teams to write about their teams, similar to our NFL Season Previews. No sport has better individual team blogs than baseball, and these writers are some of our favorites.
These will be running all day today, and we very much hope you enjoy them.
Up right now: The Los Angeles Dodgers. Your writer is Jon Weisman.
A features editor at Variety, Jon Weisman writes about baseball at SI.com and about the Dodgers specifically at Dodger Thoughts. His words are after the jump.
———————————————————————————
Have you figured out the Dodgers yet? Don't worry, because in Los Angeles, we gave up trying to. They just served as a valuable teaching moment - practically their own Afterschool Special. Specifically, they taught us this: Ignorance rules.
"Nobody knows anything," was William Goldman's quote about Hollywood. It applies a few miles down the freeway at Dodger Stadium as well.
It doesn't matter how good you are; you can always lose 13 out of 14 games. It doesn't matter how bad you are; you can always win 17 out of 18 games. You can blow a 5-0 lead in the ninth in April, you can rally from a 9-5 deficit in the ninth (by hitting four consecutive solo homers, no less) in September. Whenever we looked too close at the 2006 Dodgers, we just got cross-eyed.
Somehow, though, it came together for the Dodgers just enough to extend their season past October 1. Despite having no hitters with more than 20 home runs, the Dodgers offered a deceptively productive offense, leading the National League in on-base percentage and finishing first among NL playoff teams in OPS. The pitching finished fourth in the league in ERA, with only four guys hanging on the staff from season's start to season's end.
For a good part of the season, rookies like Andre Ethier, Matt Kemp and Russell Martin were carrying the team as much as anyone. By the end, the maligned J.D. Drew was having a robust September (1.145 OPS) while reaching a career high in games played in 2006. Nomar Garciaparra was channeling Kirk Gibson, hitting magical home runs while leaving us in suspense as to whether he'd need a pinch-runner for his home-run trot. Marlon Anderson, acquired before September in the hopes that he might have a pinch-hit or two, hit so many home runs that Vin Scully was calling him Merlin. Rafael Furcal (1.046 OPS in September) was rocking. Derek Lowe became almost unhittable (except for the one time he blew a huge lead, of course), and midsummer acquisition Greg Maddux seemed to need, like, five pitches to get through his typical six innings. The guy's 40, but I don't know, he bends time and space or something.
Oh, and Takashi Saito (Heard of him? Probably not.) managed to pretty much replace Eric Gagne. Mull that over.
Since 1988, on the few occasions the Dodgers have hit the playoffs, it has been as decided underdogs. This year, who the hell knows? Three wins or losses decide the Division Series. The Dodgers could win or lose three games in a row faster than Lindsay Lohan generates a Defamer headline. There's no script for this team that a single monkey working at a single typewriter couldn't have typed with more coherence.
In closing, just a word about Dodger fans. Win or lose, you might see a few Dodger fans leave the game early to beat the traffic, and people will make their smarmy comments about it. Yeah, we have traffic in Los Angeles. Sue us. All I ask is that you take a look at the other seven playoff cities. Inevitably, when games get decided in elsewhere in the U.S., those fans also start streaming toward the exits, but no one says a word. Meanwhile, plenty of Dodger fans around the world are cheering their guts out, wherever they are. We may not have the best public transportation system in the world, but we love our team.