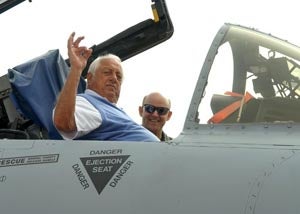 In case you haven't been paying attention, a very old man is demanding that you cancel your plans this weekend to stay home and watch the baseball playoffs. It's Tommy Lasorda, of course. You know, the guy who decided to pitch to Jack Clark in the ninth inning of Game 6 of the 1985 NLCS. Suddenly he's an authority on how you spend your leisure time.
For those seeking insight into the first great Dodgers gaffe of the 21st Century — Jeff Kent and J.D. Drew running piggyback into a double play at home plate against the Mets on Wednesday — don't expect to see it on Lasorda's blog at MLB Blogs.com. He's too busy shilling for ESPN and Fox in a series of ads drumming up interest for the playoffs, because you wouldn't be inclined to watch anyway without an ancient fatso browbeating you through your TV. From MLB.com:
In the spirit of this new "Lasorda's Love" ad campaign, MLB.com asked many fans of eliminated teams what inspires them to still watch the postseason. Here are some reasons, in their own words:
(NOTE: Some reasons may have been supplied by us):
• Clara Simpson, Royals fan, Topeka, Kan. I like baseball. I also like cold, dark places. I'll watch the playoffs from beneath my neighbor's porch.
• Izzie Tomerelli, Devil Rays fan, St. Petersburg, Fla. I've fairly warned you to get off of my property. Now comes the mace.

• Jimmy "Squeaker" Knudson, Cambridge, Ontario. I have been in a coma for seven years. In what division are the Expos now?
Tommy Lasorda's World [MLB Blogs]
1985 NLCS [Wikipedia]
Plenty Of Reasons To Watch [MLB.com]